Time for another Currently post! I love writing these because it is nice to take a step back and look at what exactly is going on in my life at this moment in time.  I hope you enjoy them as much as I do!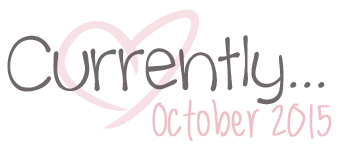 Current book: I just finished reading Reconstructing Amelia. So good. I could not put it down.  I read half the book in one sitting while Lane and his family were watching the K-State vs. TCU football game. They had four hours of football, I had four hours of reading (and occasionally being startled when everyone started yelling at the TV).
Current music: The Weepies. It's been a long time since I've listened to them but I can't get enough right now! The World Spins Madly On and Can't Go Back Now are my favorites!
Current [non]-guilty pleasure: Reading! Trying to read as many books from my reading list on Oyster before it goes away in December!
Current nail colour: This one on my toes, but I'm not really sure that I like it, it comes off almost black, which is fine, just not what I usually go for.
Current drink: Hot water or hot tea with coconut oil in it. I know it sounds super weird but you don't really get a ton of added flavor, but it smells so good and it feels like I have chapstick on my lips after I drink it!
Current food: Molasses cookies! My mom made some while my uncle was here and she's since made two more trays of them. That may or may not be because of me.
Current obsession: Moisturizer. I don't know if it is the up and down temperatures we've been having or wind or what but my skin is crazy dry lately and it is driving me nuts. Susan and I were talking about it the other day and she feels the same way, so at least I'm not alone!
Current wish: That the Royals beat the Astros! We will be planted in front of the TV tonight watching it!
Current triumph: My friend Kenda kicked major butt in her marathon! I know I've already talked about it on the Weekend Recap, but I am seriously so proud of her! The mental part of racing is (to me) so much harder than the physical part and she owned it!
Current TV Show: I'll go with a new show this season, even though I'm loving that ALL the shows are back! I am really into Quantico! I love a show that makes me think that this one definitely fits the bill!
Current need: I'm pretty content right now, so I'll go with nothing here.
Current bane of my existence: The Heat! Holy cow, it was in the 90s here on Sunday! It's October! It's Fall! Go away summer!
Current indulgence: Lane and I are talking about going to NYC for our Christmas gift to each other this year. I've been to NYC over the holidays and love it. One of my favorite things about Christmas is the decorations and I've always talked about it so Lane wants to go visit. Fingers crossed that it happens!
Current procrastination:  Ugg. Laundry. That's my project for this week.
Current blessing: My family. I've talked about how grateful I am for them lately, but when your parents let you move in with them, your uncle comes to help work on your house, your brother donates his time to the project, my sister texts me in the mornings to tell me to have a great day/week, my in-laws let Lane and I come and stay with them so we don't have as long of a drive before the marathon, etc. We are pretty blessed.
Current excitement: We are going to have a main floor in our house soon! What!? Sometimes it seems like the process is crawling along but most of the time we stop by the house after work and are amazed at the progress. I'm so excited to share it with you guys!
Current mood: Happy! But a little bit of tiredness still in there too.
Pick one or all from the above and tell me about you and what you are currently up to!