I'm taking a page from Amanda at Running with Spoons and doing a post about what I am Currently up to for August!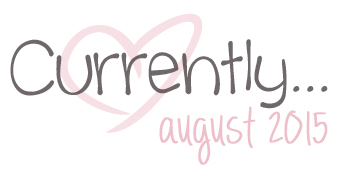 Current book: Mrs. Kennedy and Me by Clint Hill. I've always been intrigued with the Kennedy family and have read several books about them but this is one of the better ones. Clint Hill was Mrs. Kennedy's Secret Service detail and spent more time with her than anyone. He was there when John Jr. was born, when Patrick was born and when he passed away days later and he was the first to the car when the President was shot. The admiration and respect that he had for her (and vice versa) was incredible. It is really a beautiful story.
Current music:  Jimmy Eat World. It's definitely not new music, but Kill, Work and If You Don't, Don't are my favorites. Can't go wrong with any of them. Instant good mood.
Current [non]-guilty pleasure: Online shopping. It's a bit more on the guilty side since I do have to pay for anything I get! Running gear is always hard to resist.  I also need to unsubscribe to all the emails I get so I don't see all the beautiful new fall things starting to come out! Because I totally need a sweater when it is 95 degrees out…I have gotten things for Lane too, so it isn't just for me!
Current nail colour: Fingers are au-naturel. My toes have Zoya in Paloma. I'll save you the photo of my toes and just show you the polish.
Current drink: Hot tea. Water. This will likely be a standard answer for awhile…
Current food: Peaches! SO good right now! They might even beat out a craving for chocolate. Might being the key word there.
Current obsession: UnReal. I haven't watched the finale yet but I'm excited to see where it goes. Seriously…how low can they go?
Current craving: Sleep. It's been slowly getting better and I'm getting to bed a little earlier every night but I really just want more sleep. All the sleep.
Current need: Can I go with sleep again here?
Current bane of my existence: I hit my head a few weeks ago and I have a little scab on my scalp. Which wouldn't be so bad if I didn't hit it every time I brush my hair or run my fingers through my hair. So annoying!
Current indulgence: Free time. I don't have alot of it, but I am totally taking advantage when I can and doing extra reading or watching a show here and there without feeling guilty for it. Everything will get done in its own time.
Current procrastination: Cleaning out my email inbox. I never have more than about 15 messages in it, but some of them have been there for awhile and I just need to clean it up already.
Current confession: Remember how excited I was about Meb's book? Yeah, still haven't started it. But it looks really nice on my nightstand 🙂
Current blessing: My parents for letting us stay with them indefinitely. It won't be forever, but we really don't know how long it will be. Building a house wouldn't be possible without their help!
Current excitement: We are going to Charlotte, NC next week! It'll basically just be a long weekend, but we will get to see some of my family while there, which will be really fun.
Current mood: Happy. I have nothing to complain about. Life is good.
Pick any of the above and answer them in the comments! Any places that we need to go while we are in Charlotte?